The girl behind the art
My name is Nadine de Almeida and I am the artist behind De Almeida Illustrations. From a young age I have had a love for all things pretty and feminine. Now living in Vancouver, BC I have specialized in fashion illustrations aiming to make the world that much prettier; one illustration at a time. When not drawing, you can find me in the sunshine with my toy poodle at my side.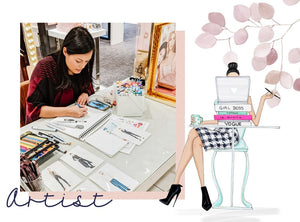 Which size should I go with?
All our art prints are available in 5x7, 8x10, and 11x14 (select come in 16x20 and 17x22!) which are standard framing sizes.
Our most popular size is 8x10 (also the size we recommend if you're unsure, happy balance!). Frame in their respective sized frames or if you're looking to make more of a statement, go up a frame size and mat your print!
A mat adds a border to your print within the frame and gives your piece 'breathing' room and creates more of a focal point.